Top Celebrities with the Sweetest Taste in Muscle Cars
Celebrities, in general, have a unique taste in cars. However, the following celebrities have topped the list when it comes to owning not only the hottest looking cars, but also the most powerful and rare.
Jay Leno
Hail to the king of automotive enthusiasts! Although he constantly tries to mask his coolness with his full denim attire, there is no doubt that this guy has the coolest of cars money can buy (or restore for that matter).
Ralph Lauren
In addition to running a very successful clothing company, this man of many tastes still finds the time to collect the coolest muscle cars and even cruise around in them. He even sends some of his cars to foreign countries for display.
Paul Walker
Before his sad demise, and even beyond the fact that his work on the Fast and the Furious franchise established him as an enthusiast, Paul was an avid car collector with more than 30 cars. He will always be remembered for his role in bringing back the automotive culture to a new generation.
Reggie Jackson
Beyond having every important engine ever made by Chevy, his unique collection also includes other models. However, it is clear where Mr. October's passion lies.
Billy F. Gibbons
This custom muscle car enthusiast has appeared in magazines and has even written a book about his obsession with cars.
These celebrities just can't let themselves be separated from their muscle cars; can you?
What are the Top 10 Muscle Cars of All Time?Get the breakdown, and see the action!
Related on Muscle Car Fan
---
Chevrolet Impala 1958 Generations
The Chevrolet Impala is named after a South African antelope; this is one of the longest surviving nameplates for G.M. The name Impala first appeared on the corporations rooster during the General Motors Motorama in 1956. The new Impala is represented by a full sized green and white hardtop prototype, styled along the same lines as the Corvette, however this prototype no longer exists. The chief engineer at GM in the late 50's defined the Impala as a full sized car of prestige that was within the budget of the average American citizen. By the 1965 model year it had become one of the bestselling automobiles in the U.S. A sketch of the design crew caught the eye of Hartley Earl styling vice president and seven months later the Impala was ready to roll off the assembly line.
ID 1838000 © Christian Reichenauer | Dreamstime.com
The Impala was in Chevrolet showrooms for the 1958 model year as an uptown version of the Bel Air and available as a coupe or as a convertible. The Bel Air is longer, lower, wider, and little more radical than the previous model year as well it differs from the lesser versions in '58 from the windshield rearwards sporting a smaller green-house and a longer rear deck; the model gives the impression of having an extra-long body. The Bel Air Impala has a special crossed flag logo on each rear side molding, bright rocker panels, simulated rear fender scoops, and deeply furrowed horizontal fins with three tail lights on each side. For many years the Impala could be easily identified by this distinctive triple tail light configuration while the less prestigious models have a double set-up and the wagon versions have one set. The '58 headlights are now laid out horizontally mounted on all the full sized Bel Air models.
The redesigned body is sitting on a revised chassis as well-the rails now sit in and elongated "X" pattern giving the car a more torsional ridge base according to Chevy engineers but this is a transitional construction with the end result becoming the unitized body. The sheet metal is also reinforced most obviously in the rocker panels and the firewall to create a more solid looking finished product. In retrospect this frame proved itself to be less effective than the older conventional perimeter frame at protecting the seating area.
ID 1838000 © Christian Reichenauer | Dreamstime.com
The 1958 Bel Air Impalas are equipped with the 235 CID (3.9 L) Blue Flame six and bolted to a three speed transmission with a column shifter and could be had for $2,693.off the showroom floor. The 283 Cid (4.6 L) also with a three on the tree is the basic V8 putting out 185 hp although a fuel injection system is offered and this will develop 290 hp. The entry level V8 could be purchased for base $2,693.00. There is also a big block 348 CID (5.7 L) V8 available that will develop 250 hp (210 kW), 280 hp (210 kW), or 315 hp (235 kW) depending on the chosen options. The transmissions available are basically the close ratio three speed, or optionally, a three speed manual with over-drive, the Turboglide, and two speed powerglide are also on the table.Basic suspension is coil springs all around but an option package was available that offers air shocks if you prefer. The marketing promised "vigorous performance, the quick, eager-to-please handling lets you know you are the boss". The prices put the Impala into the mid-price bracket with the uptown interiors sporting a two spoke steering wheel and color co-ordinated door panels with a brushed aluminum trim.
The car was well received and the '58 Bel Air Impala helps Chevy regain its place as a number one selling car that year. The fuel injection version is a very rare 283 Impala with the factory installed Ram-Jet option and are highly desirable in collector's eyes.
Related on Muscle Car Fan
---
Chevrolet 210 1955 Custom Tri-Five Street Rod
'55 Chevy 210 has been massaged and refinished in Competition Yellow, sitting on a full custom Art Morrison chassis and powered by Corvette-inspired LS6 Aluminum power, this is a street machine to be proud of!
Related on Muscle Car Fan
---
Ford Panther Coupe 1934 images
The  award winning '34 Ford Panther coupe displayed here is a unique show piece and the perfect gift for the MCF that has everything else, provided that money is no object. This super cat is powered by 3 three Chevy 350 engines, backed up by a Turbo 400 transmission. No expense was spared with a "Bridge of Weirs" red leather interior,  16 coats of Imron paint, custom frame, custom fiberglass body, four wheel independent suspension, disc brakes all around, with rack and pinion steering. The 24 exhaust pipes, one for each cylinder exit the engine compartment through the fenders to the underside and, in a simply designed manner, exit the rear as twin pipes
BUY IT HERE goo.gl/eaZ619
MCF thanks Gateway Classic Cars for the images provided here.
click on any image for a larger picture
Related on Muscle Car Fan
---
Smokin' deal alert: You can buy a brand-new 2015 Chevy Camaro Z/28 for $20,000 off sticker
Under the hood is the 7.0-liter LS7 out of a C6 Corvette Z06 with fortified pistons and titanium connecting rods that help the muscle car rev to 7,000 rpm and produce 505 hp. Pirelli supplied some P Zero Trofeo Rs that are essentially slicks with a few grooves here and there. They were so sticky that Chevy struggled with keeping the tires from slipping around the aluminum-forged rims during testing.
Full article: https://goo.gl/fnwk99
Why Dwayne "The Rock" Johnson is thanking Ford Motor employees
Dwayne "The Rock" Johnson has posted on Facebook that he just wrapped up a commercial shoot in the Detroit area. The action star has a special message for Ford Motor "blue collar" employees.
Full article: https://goo.gl/UhDuHL
Classic Car 'Deal Auto Wrecking' Yard Burns Down Near Richmond
Crews raced to put out a fire on Friday burning at Deal Auto Wrecking near Richmond, where black smoke was seen billowing by commuters across the East Bay and a shelter-in-place was ordered for the surrounding area.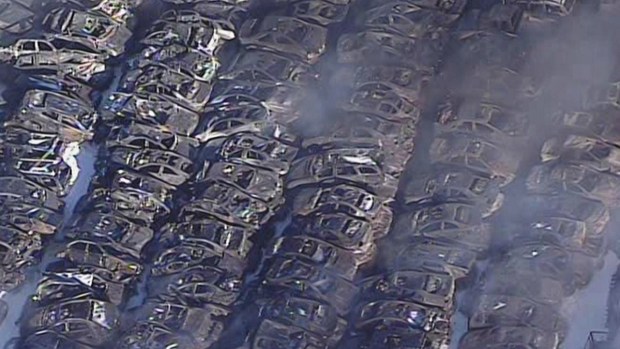 Full article: https://goo.gl/HWqS41
Shell develops new premium fuel for the engines of old cars
Modern gasolines have become a recurring headache for classic car owners. Low octane and unleaded fuel have presented challenges for years, but federally-mandated 10 percent ethanol content has caused new problems with compatibility in vintage fuel-system components.
Full article: https://goo.gl/E6h1e3
Why the 2016 Ram 1500 is the ultimate hauling machine
RAM manufactures a line of light to mid-weight commercial vehicles. The Dodge lineup of vehicles were framed in order to bring in a range of exclusive car-based vehicles that can perform like a heavy duty truck. Trucks that were tough in performance and delightful to look and feel were the target products of this lineup of Dodge RAM trucks.
Full article: https://goo.gl/HZf4yn
Related on Muscle Car Fan
Next Post