This 1968 Camaro Fuses Sports Car Handling with Muscle Car Power
California was once the mecca of fearless hot rods, and was a champion of all things liberal and laid-back. Now, the center has moved mightily away to all parts of the nation where things aren't so liberal and some of the hot rods are ferocious, and most metro areas have at least one custom-car building emporium within spitting distance. Such proliferation naturally attracts a wider, broader customer base, and a lot of those buyers are apt to not be hands-on hot rodders themselves. They want one of them, though, maybe to add a schizoid streak to their polished collection.
Full article: https://goo.gl/vHyJvp
2017 Kissimmee collector car auction: What we're watching at Mecum's 3,000-car mega sale
Everybody knows all the pace-setting January collector car auction action happens in Arizona, right?
Not quite -- on the other side of the country, Mecum's annual Kissimmee, Florida sale exerts a gravitational pull of its own; for its 2017 sale, the Wisconsin-based auction house has drawn a whopping 3,000 vehicles (plus road art and other memorabilia) to Osceola Heritage park.
Full article: https://goo.gl/efKvZ5
Registration Open For Magic Dragon Street Meet Car Show, Limited To First 1,000 Entries
The Lake Area Chamber, which organizes the event, encourages participants to sign-up early, as registration is limited to the first 1,000 entries. The 29th Annual event will take place May 5-7, 2017 at the Historic Bagnell Dam Strip.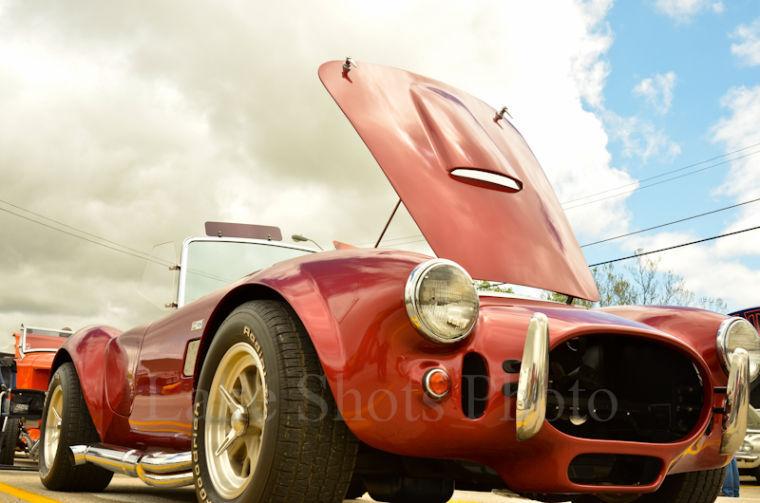 340" />
Full article: https://goo.gl/WBPpw0
Ford bets on Mustang to power up China profits
Ford Motor Co is betting on one of its most distinctively American models, the Mustang muscle car, to boost the company's sales and profits in China.
Ford began selling the Mustang in China in early 2015, and it is a niche vehicle, selling at a rate of about 3,000 cars a year. Still, that makes the Mustang, which starts at 399,800 yuan ($57,670) the top-seller in a sporty car segment against more expensive vehicles like the Audi TT and the Nissan Skyline GT-R. Mustang last year outsold the Chevrolet Camaro from General Motors Co by nearly 15 to one.
Full article: https://goo.gl/6oqd2W
Related on Muscle Car Fan
---
2+2 Equals One of the Rarest Fast Pontiac's of the 60's
Driving down Gratiot Avenue at 25 mph I was looking for the next street race with my best friend Jeff. The year was 1976, the month was June. My car was a 1967 Plymouth Barracuda Formula S that came with a big block 383. Of course, the engine was beefed up quite a bit with a racing cam, 750 double pumper dual feed Holley, 3:91 Rear,4 speed, dual point distributor and a few other goodies to make it scoot better.
Alongside us pulls a whale of a car that looked like a Pontiac Catalina Convertible. On the very front center of the fender, a large 2+2 glared at me.
Why did this guy and his gal want to race me? Looks like he borrowed his dad's car and wanted to impress his girl.
So of course, we raced…… and I got my doors blown off!
I pulled over in the Burger King parking lot at 12 Mile and Gratiot. He pulled in behind me, both him and his girl laughing!
I found out he had a pretty rare 1966 Pontiac called a 2+2 which had a 421, tri-power carbureted engine that had 376 HP and a whopping 461 ft. lbs. of torque. All put to an automatic transmission. Man was I embarrassed and light $50 for losing the race.
The Pontiac 2+2 was made for just a few years as a full-size car and built on the B-Body chassis
Starting in 1964 it debuted as a trim-only option for the Pontiac Catalina and had special door panels, buckets seats, a center console, and exterior badges. The 64 model offered choices of 2-389 motors of 283 HP and 330 HP with the Tri-Power. Also the 421 motor,320 HP with a Rochester 4 barrel carb.
Billed as the big brother to the Pontiac GTO it never reached the sale numbers the GTO did. 1965 brought about the demise of the Catalina name on the car but it was still an option for the Catalina.
The 1965-66 models all came with the 421 motor with 3 options. 338 HP 4 barrel, and 2-421's with tri-power carbs. One with 356 HP and the HO
version with 376 HP.
In 1966 it became a separate series that sported dual exhaust, heavy- duty front springs, and outer body trim.
In 67 it was made an option because of poor sales and the only engines available were the 428 360 and 376 HO motors.
Canadians were able to buy a much-revised version of the 2+2 until 1970 as the Canadian-built versions had a Pontiac body on a Chevrolet chassis and the full array of Chevrolet engines available.
A resurrection was attempted in 1986 with the Pontiac Grand Prix 2+2 but only 1,225 were built.
Related on Muscle Car Fan
---
Could Be the Most Original 1971 Plymouth Hemi 'Cuda on the Planet
"OK, if we do it, it needs to be a 1971 Hemi 'Cuda, unrestored, a High Impact color, a build sheet, a four-speed, and from the original owner."
Lars Skroder was talking with his brother Tor when he said those words back in February 2013. The brothers began collecting quality muscle cars some years ago, focused mostly on Chrysler performance models. Their process is deliberate and selective. When a low-interest investment Tor had made was coming due, with little hope of improvement, he told Lars they should buy another car instead of letting the money just "sit in a bank." Lars suggested a few other financial possibilities, but Tor insisted on adding one more treasure to the garage. Younger brother Lars then threw down the gauntlet and listed the impossible. Figuring it would take months, if not years, to find something that matched those requirements, just three weeks later Lars located the exact car he had imagined.
Full article: https://goo.gl/AY981u
Related on Muscle Car Fan
---
Guess the year, make and model!
Related on Muscle Car Fan
---
WWE Stars With Their Classic Muscle Cars – Here Are Our Best Picks
You cannot separate WWE stars from their classic muscle cars. Whether based on the fact that the cars are loud and fast, or just a general appreciation for the culture they represent, we can agree that they have quite good taste. Here are some favorites.
John Cena – 1966 Dodge Hemi Charger
Cena has quite the collection of classic muscle cars, from Plymouths to Ford and Dodge. However, this ride stands out from the rest just like its owner. A truly raw classic muscle car.
The Rock – Chevrolet Chevelle
Having stared in several car movies including the Fast and the Furious franchise, he is no stranger to sweet rides. This particular car featured in the movie Faster. It is a combo of '71 & '72 body panels and a '71 chassis.
Hulk Hogan – 1994 Dodge Viper
Easily one of the most recognizable wrestlers of all time, Hogan went all out with custom painting of this machine to match his red and yellow colors with additional custom graphics and a Hulkmania logo.
Bill Goldenberg – 1970 Ford Mustang
Owning a decent collection of muscle cars, his favorite is a hard decision to make. However, the "Lawman" stands out with an impressive 780 HP.
Stone Cold – Pontiac Firebird formula
Stone Cold is an avid car collector, owning a sweet and rare Steve Austin. He continues to purchase and collect vintage muscle cars.
Related on Muscle Car Fan
Next Post