This 1968 Camaro Fuses Sports Car Handling with Muscle Car Power
California was once the mecca of fearless hot rods, and was a champion of all things liberal and laid-back. Now, the center has moved mightily away to all parts of the nation where things aren't so liberal and some of the hot rods are ferocious, and most metro areas have at least one custom-car building emporium within spitting distance. Such proliferation naturally attracts a wider, broader customer base, and a lot of those buyers are apt to not be hands-on hot rodders themselves. They want one of them, though, maybe to add a schizoid streak to their polished collection.
Full article: https://goo.gl/vHyJvp
2017 Kissimmee collector car auction: What we're watching at Mecum's 3,000-car mega sale
Everybody knows all the pace-setting January collector car auction action happens in Arizona, right?
Not quite -- on the other side of the country, Mecum's annual Kissimmee, Florida sale exerts a gravitational pull of its own; for its 2017 sale, the Wisconsin-based auction house has drawn a whopping 3,000 vehicles (plus road art and other memorabilia) to Osceola Heritage park.
Full article: https://goo.gl/efKvZ5
Registration Open For Magic Dragon Street Meet Car Show, Limited To First 1,000 Entries
The Lake Area Chamber, which organizes the event, encourages participants to sign-up early, as registration is limited to the first 1,000 entries. The 29th Annual event will take place May 5-7, 2017 at the Historic Bagnell Dam Strip.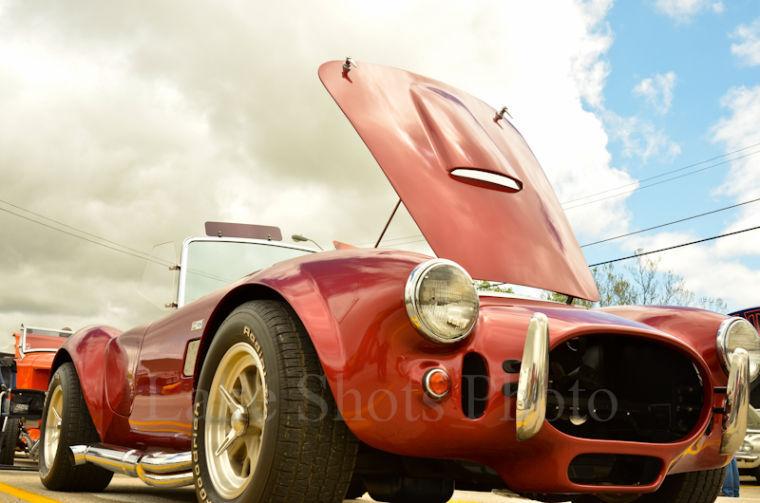 340" />
Full article: https://goo.gl/WBPpw0
Ford bets on Mustang to power up China profits
Ford Motor Co is betting on one of its most distinctively American models, the Mustang muscle car, to boost the company's sales and profits in China.
Ford began selling the Mustang in China in early 2015, and it is a niche vehicle, selling at a rate of about 3,000 cars a year. Still, that makes the Mustang, which starts at 399,800 yuan ($57,670) the top-seller in a sporty car segment against more expensive vehicles like the Audi TT and the Nissan Skyline GT-R. Mustang last year outsold the Chevrolet Camaro from General Motors Co by nearly 15 to one.
Full article: https://goo.gl/6oqd2W
What are the Top 10 Muscle Cars of All Time?
Get the breakdown, and see the action!

Related on Muscle Car Fan
---
Muscle Car: The Ten Best All-Time Models
If you're into cars, you'd love seeing a muscle car on the road. Classic-looking, they were built for anything but nimbleness as they were all rather big and heavy. However, they came with attitude, were definitely powerful and reflected all that was to love about the American auto industry between the years of 1960's to 1970's.
Just for your reading pleasure, here is a list of the people's most loved models of all time based from the poll that GenCept conducted to their readers. Note that this preference list is according to ascending order.
10. 1970 Buick GSX
The 1970 Buick GSX was made to top the impressive potent Buick GSX 455 big-block coupe. With a 360 horsepower and an enormous and enduring 510 lb-ft of torque, this car definitely created a remarkable impression that GM was enthusiastic about exceeding its 400-cubic-inch limit. It came in yellow or white colors with the racing stripes this muscle car is famous for.
Click for the Full Article
9. 1968 Pontiac Firebird Coupe
Way before the Firebird that Burt Reynolds used in his classic flick, "Smokey and the Bandit," there was an earlier version of the said muscle car. The pioneering models were considered to be the best then in the market. Its 1968 product had an array of engines which included a loud and clear 400-cubic-inch V8 that's just perfect for a horsepower of 335.
Click for the Full Article
8. 1969 Plymouth RoadRunner
This car that literally runs down the road had zero wheel covers and a fiberglass hood that can be lifted off. With a 440 engine that could run at 390 horsepower and 490 lb-ft of torque at 3200 revolutions per minute, it comes quite close to the Hemi 'Cuda but at an engine speed that's a bit lower --- nearly as fast but, at least, more economical in rate.
Click for the Full Article
7. 1970 Chevelle 454 SS
At 454 cubic inches which translates to around 7.4 liters, this muscle car was all about pure engine and great power starting with a good base of 360 horses but dig this... it could zoom up to a total of 450! With such an impressive engine, it was epitome to how far the power of a muscle car can go, and until now it still holds the highest rate in terms of production rate.
Click for the Full Article
6. 1965 Pontiac GTO
Also known as the "Goat" and with much affection mind you, this car had a 389 cubic-inch engine, featured a full 335 horsepower and came with an alternative for the owner to go for an add-on of 25 ponies. Its brakes were rather faulty and steering was also weak so it was hard to control. Despite that flaw, the Pontiac still had the ability to run up to 60 miles per hour in no less than six seconds.
Click for the Full Article
5. 1970 Plymouth Hemi 'Cuda
© Randomshots | Dreamstime.com - Plymouth Barracuda Photo
Pimped with a new look, this barracuda muscle car was sold as five high-powered V8 models with an amazing 425 horsepower to match. As its name implies, it had a nose that contributed more to its overall weight. This in turn had others question how effective its handling would be, but when this beast ran down a quarter mile in a low range at 13 seconds, that pretty much shut everyone up.
Click for the Full Article
4. 1970 Boss 302 Mustang
© Raytags | Dreamstime.com - Ford Mustang Photo
If you could dub a car as "serious", the Boss 302 would definitely get the title. What with its high revved engine at 290 horsepower made to race against its Camaro rival. Intended for Trans-American racing, this car was good to go for a zero to sixty mile per mile run well below seven seconds. Have the rev gone beyond 3500 and you were in for the fastest joy ride of your life.
Click for the Full Article
3. 1969 Z28 Chevrolet Camaro
The pioneering models of the Chevy Camaro were intended to excite car buffs, and what a successful feat this was! Much like the Boss 302, this car was made to compete in the Trans-American racing as well. At 302-cubic-inch in engine, it featured a 290 horsepower rate complete with F41 suspension, front disc brakes and a 4-speed gearbox.
Click for the Full Article
2. 1969 Dodge Charger
 © Maxym022 | Dreamstime.com - Dodge Charger R\T Photo
Another muscle car which largely gained popularity because of the past hit TV series, "Dukes of Hazzard," this beastly muscle car's early model was the R/T which had a 440 magnum under its hood that gave an intense 375 horsepower. Its later model, the 426 Hemi, came with an engine that was almost a ton heavy but at an amazingly super power of 425 horses.
Click for the Full Article
1. 1967 Shelby Mustang GT500
MCF thanks Gateway Classic Cars for the Shelby Mustang (tribute) image.
Garnering the highest percentage of the votes, which is no surprise because what made it a hit years back still remains to our present day. Named after its creator Carroll Shelby, it came out in the market in the year 1967, earning a place in showrooms. It was equipped with a 428-cubic-inch police interceptor engine and a rather conservative 355 horsepower rate. What made this car different though was that it wasn't designed for any racing as it was actually intended to be a vehicle suitable for everyday use. This was what made the Shelby name rise to fame.
Related on Muscle Car Fan
---
2013 Dodge Charger
The feature photo is a 2013 yellow Dodge Charger Superbee SRT and it does come with all the decals and badging but I could not find a picture showing them so just head to your favorite dealer and I am sure they can show you what they look like. But in the image you can see the "aggressive and gaping front grill treatment and scowling headlamps" . The chrome exhaust tips and rear spoiler hidden from view. The new "Bee" offers the best of then integrated with now's desires. The "performance bolstered seats hold you, then technology takes over". Chrysler Corporation says "Who is behind the wheel is as important as what is under the hood"
.© Brphoto | Dreamstime.com - Dodge Charger SRT8 Super Bee Car On Display At The LA Auto Show. Photo
 The 2013 Dodge Charger comes in nine models but there is no convertible offered! The Charger interior has ambient lighting and is pushily appointed optional frost beige cloth or with your choice of red or black Nappa leather – I am not sure what a Nappa is but I do believe that it is not on the endangered species list – so the leather option would be an environmentally friendly choice.  Other interior possibilities available are the heated and ventilated seats and a 8.4 inch stacked screen to give the driver accurate read-outs from climate control and stereo operation as well as call your buddy on the integral phone..  The flat bottomed leather (from a Nappa?) covered steering wheel is standard equipment and it "roadalizes" handling. You will be as safe in a crash situation as modern technology can make you. There are 65 safety and security features built into this car including a roll cage, crumple zones, and an ultra modern air bag system. Some of the engine options are a 300 horse power (220.65 kW) V6 attached to an eight speed transmission complete with wheel mounted paddle shifters. Another engine option is a 6.4 liter V8  Hemi putting out 470 hp (345.7 kW) and 470 pound-feet of torque equipped with a five speed automatic and you can shift from the steering wheel with the paddle shifters. "The Superbee" says Chrysler Corp." has lots sting but leaves no welts". The 6.4 liter V8 Hemi under the hood will do o to 60 in less than 5 seconds and that is a lot of sting. The suspension features firm springs and Bilstein dampers. For stopping power there are large four piston brake cylinders to move the "Brembo" calipers onto the slotted rotors on the four wheel disk brakes. The brakes are also computerized to sense skidding as well as having air scoops on them for cooling.
© Swtrekker | Dreamstime.com - Defiance Law Keeper Dodge Charger Photo
The fuel saver technology can give you great mileage – on the highway but they did not give any statistics on city driving;. How good will the gas mileage be if you need to be the first one away from the light? Safe to say it will drop somewhat from the highway figures I am giving. First I will give the figures American brothers and sisters can relate to: from a low of 23 miles per gallon to a high of 31 miles per gallon. If there are any foreigners out there this translates to between a low of 9.79 km per liter up to a high of 13.2 km per liter. The actual figures will vary depending on how well the engine is tuned and also individual driving habits will change your results. The base price 0f the Charger is under $30,000.00 up to under 45,000.00 but you can be sure if you want a fully loaded ride that the bottom line would be somewhat higher.
© Swtrekker | Dreamstime.com - \"Fast & Furious 6\" Charger, Woodward Dream Cruise Photo
Related on Muscle Car Fan
---
For the First-Time Ever the Classic Muscle Car Can Tackle Snow
For the first-time ever, Dodge is reinventing the American muscle car by bringing all-wheel drive to the Challenger.
Full article: https://goo.gl/fKjG5I
Related on Muscle Car Fan
---
Rev up your engines with the American Muscle Car Challenge
The Richard Petty Driving Experience's American Muscle Car Challenge invites thrill seekers to get behind the wheel of iconic muscle cars to drive around the famed Las Vegas Motor Speedway at speeds up to 140 mph.
Full article: https://goo.gl/ZG8Lym
Collector consigns 145 vehicles for Barrett-Jackson in Scottsdale
A wide-ranging group of 145 cars from the Charlie Thomas collection will be sold at no reserve during Barrett-Jackson's flagship auction, January 14-22 at WestWorld in Scottsdale, Arizona.
Full article: https://goo.gl/xpTcP7
Holiday time Ladson muscle car cruise-in turns out regulars, impulse show-goers
Kevin Harrell lifted his daughter Christina, 2, from the back seat of his polished auto classic that turned 59 the year she was born.
Full article: https://goo.gl/xqs24e
Collector's favorites were marbles, muscle cars
Elinore McMahan would have celebrated her wedding anniversary on Friday with her husband, David, a man she said could fix just about anything.
Full article: https://goo.gl/IihLDi
Related on Muscle Car Fan
Next Post