Mecum Auctions: The world's largest collector-car auction drops by Kissimmee
At many car shows around the country, auto enthusiasts can look but not touch. It's reminiscent of Jones' 1980s pop hit. But how much fun would it be to experience the visceral thrill of a racing muscle car?
Full article: https://goo.gl/mC08A4
Some chefs love to get under the hood of a stove and a car
Is there a connection between cars and cuisine? We spoke to some local chefs who happen to be car enthusiasts. They occasionally get together to hang out and collaborate on restoration projects and talk shop, because they share much in common: They love cooking and they love cars.
Full article: https://goo.gl/8cRjrR
Chevrolet Corvette Leads Premium Sports Coupe Sales for 2016
As I continue to dig through the final 2016 sales numbers, I have found that the Chevrolet Corvette has once again led the premium sports coupe segment in annual sales – selling more than twice as many cars as the second place cars on the list.
Full article: https://goo.gl/L93T7T
Faraday Future's 2.4-Second 0-60 Is Nothing But a Distraction
Last night, ambitious automotive startup Faraday Future finally debuted its first production-ready, semi-autonomous car. In a 90-minute presentation marred by multiple technical hiccups, Faraday Future presented its vision of a revolutionary new world of transportation-one where your car parks and sometimes drives itself, freeing you to be the pampered passenger in your own self-chauffeured luxury electric crossover.
Full article: https://goo.gl/dbcy3N
Pontiac Trans Am Kammback Concept Is Ready For Auction
All of the muscle cars in the past were driver-focused and in generally they didn't offer much utility, but this has changed over the years.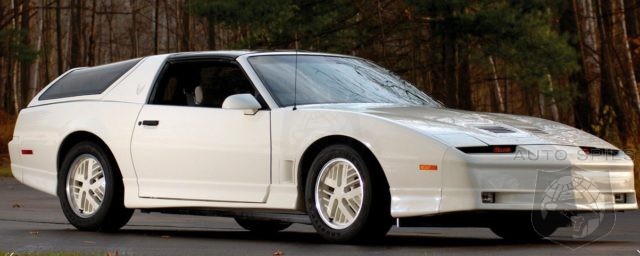 Full article: https://goo.gl/9vVJGy
What are the Top 10 Muscle Cars of All Time?
Get the breakdown, and see the action!

Related on Muscle Car Fan
---
True Stories of The Muscle Car Fan: AMC Exec Passes Javelin AMX With Go Package

This story is from one of our Muscle Car Fan Members. His Grandfather Ted Walters was an executive with AMC Motors and worked with the High-Speed Stop Division. Ted spent his career working for Hudson, Nash, AMC and Chrysler.
This is part of the story as told by his Grandson Brad Mathis.
The car is grasshopper green w white vinyl top, gold t-stripe, and green interior. Ac, rear defrost, tilt, 727 auto 401 w true cowl induction, factory fiberglass hood, front disc, Posi rear end. Aka "go pac" car. Interior is original and perfect thankfully.
Just learning on the Javelin with my grandfather, and father to fix anything it needed. I think I was about 12 when I first started falling in love with the car. I believe I was 13 when I first drove the car in and out of the garage supervised of course. Not long after just in/out of the garage I began to sneak the car for joy rides.....I remember my dad/mom getting a call from a neighbor who decided to crash my little party. They soon hid the keys and began to write milage down. After that, I found a 1973 Gremlin, my first purchase at about 15, then moved up to my 69 AMX 390 4sp that I beat to death driving daily to high school from about 98-2001. After I finally killed the 390, a friend I found out had a beautiful 70 AMX 390 4sp car locally and willing to sell. I borrowed some money from my dad and got it! Both cars I still own and are in great shape but need some TLC. My focus was always to fix up the Javelin so both cars still sit. Now w 3 young boys Braeden 8, Bryson 4, Owen 1 I can only hope to afford to finish them for their high school cars. The Javelin is now a fourth generation car and very loved by all of us. My AMC addiction is a true passion I live daily....I have added to my collection as well done very nice and close to be completed cars. The total AMC'​I own now are as follows. 69 AMX, 70 AMX, 72 jav AMX, 72 gremlin X v8, 73 hornet v8, 76 hornet AMX 4sp v8 clone, 79 Spirit GT 401 old race car.Glad to hear there's more than myself and the few others I know who like AMC's. It's always been fun owning the AMC cars,especially when not many people know what they are.

Related on Muscle Car Fan
---
Rev up your engines with the American Muscle Car Challenge
The Richard Petty Driving Experience's American Muscle Car Challenge invites thrill seekers to get behind the wheel of iconic muscle cars to drive around the famed Las Vegas Motor Speedway at speeds up to 140 mph.
Full article: https://goo.gl/ZG8Lym
Collector consigns 145 vehicles for Barrett-Jackson in Scottsdale
A wide-ranging group of 145 cars from the Charlie Thomas collection will be sold at no reserve during Barrett-Jackson's flagship auction, January 14-22 at WestWorld in Scottsdale, Arizona.
Full article: https://goo.gl/xpTcP7
Holiday time Ladson muscle car cruise-in turns out regulars, impulse show-goers
Kevin Harrell lifted his daughter Christina, 2, from the back seat of his polished auto classic that turned 59 the year she was born.
Full article: https://goo.gl/xqs24e
Collector's favorites were marbles, muscle cars
Elinore McMahan would have celebrated her wedding anniversary on Friday with her husband, David, a man she said could fix just about anything.
Full article: https://goo.gl/IihLDi
Related on Muscle Car Fan
---
Packard Model 8 -1949 images
This 1949 Packard Model 8 is powered by a 327 CID Inline 8 eight cylinder engine with a three speed manual transmission. This car is a luxury car and is the Cadillac's main competitor in a booming post-war economy. There were 116,000 Packard leave the assembly line in 1949.
Our thanks to Gateway Classic Cars for the images displayed here.
Related on Muscle Car Fan
---
The Death and Rebirth of American Muscle Cars
Ever since their debut in the 1930's, American muscle cars had been going strong, enticing youths and experienced drivers alike. However, this all changed in the mid-1970's. Government interference and industry regulations restricted the market, and many thought that beautiful, powerful muscle cars were a thing of the past. After a few final great vehicles, muscle cars faded away from the picture.
Pictured: 1974 AMC Javelin, one of the last successful high-performance cars of its era.
A new law made in the mid-1970's outlawed auto racing, and along with the rising gas prices caused by trade regulations, a new stage had been set -- a stage that saw many buyers turning to smaller, more fuel-efficient street cars.
But muscle cars were not dead for good. Manufacturers changed their Ford and GM ushered in the new age, with competing pony cars made on the cutting-edge of tech to outsell each other. These first cars were the 1982 Mustang G2, and GM's third-gen Chevy Camaro and Pontiac Firebird. The Mustang featured a new 302-cid V8 motor, which set the industry standard for acceleration and speed, while the Camaro was one of the most popular Indy 500 pace cars of its decade.
Pictured: 1982 Mustang G2, 3rd Gen Camaro, 1984 Pontiac Firebird.
Regardless of whatever other inventions are coming to revolutionize the car industry, one thing is for certain: though they have had their rough patches, American muscle cars are here to stay.
Related on Muscle Car Fan
Next Post