Mecum Auctions: The world's largest collector-car auction drops by Kissimmee
At many car shows around the country, auto enthusiasts can look but not touch. It's reminiscent of Jones' 1980s pop hit. But how much fun would it be to experience the visceral thrill of a racing muscle car?
Full article: https://goo.gl/mC08A4
Some chefs love to get under the hood of a stove and a car
Is there a connection between cars and cuisine? We spoke to some local chefs who happen to be car enthusiasts. They occasionally get together to hang out and collaborate on restoration projects and talk shop, because they share much in common: They love cooking and they love cars.
Full article: https://goo.gl/8cRjrR
Chevrolet Corvette Leads Premium Sports Coupe Sales for 2016
As I continue to dig through the final 2016 sales numbers, I have found that the Chevrolet Corvette has once again led the premium sports coupe segment in annual sales – selling more than twice as many cars as the second place cars on the list.
Full article: https://goo.gl/L93T7T
Faraday Future's 2.4-Second 0-60 Is Nothing But a Distraction
Last night, ambitious automotive startup Faraday Future finally debuted its first production-ready, semi-autonomous car. In a 90-minute presentation marred by multiple technical hiccups, Faraday Future presented its vision of a revolutionary new world of transportation-one where your car parks and sometimes drives itself, freeing you to be the pampered passenger in your own self-chauffeured luxury electric crossover.
Full article: https://goo.gl/dbcy3N
Pontiac Trans Am Kammback Concept Is Ready For Auction
All of the muscle cars in the past were driver-focused and in generally they didn't offer much utility, but this has changed over the years.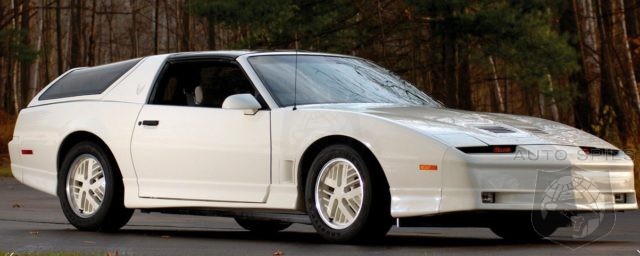 Full article: https://goo.gl/9vVJGy
Related on Muscle Car Fan
---
Early Muscle to the 1970 Plymouth Superbird
People have wanted to go faster since the beginning, and Oldsmobile built the 1949 Rocket 88 in response to that longstanding tradition. This is arguably the mid-sized car that was the start of the evolution of the muscle car.
© Randomshots | Dreamstime.com 1951 Oldsmobile 88
The Rocket 88, powered by America's first high-compression, overhead valve V8 equipped with a 303-cubic-inch engine fitted with a two-barrel, put out 135 hp (101 kW) at a comfortable 3600 rpm. The car would remain defined as a muscle car for three decades. In the early years, the only other production car that could almost keep up was the Hudson Hornet.
Chrysler in 1955 produced the Hemi-powered C-300 that looked like a luxury car. It did 0-60 in 9.8 seconds, reaching a top speed of 130 mph or 209 km/h. The car was also touted as being the best handling car ever made. Then, in 1957, the AMC Rambler Rebel became the fastest compact sedan as equipped off the assembly line and came with a Bendix fuel injection.
The infatuation with speed gained momentum, and the 1962 Dodge Dart, powered by the Max Wedge 413-cubic-inch (6.2L), did the quarter-mile in 13 seconds, reaching more than 100 mph (161 km/h). By 1964, GM had four divisions in the muscle car business with Buick making an entrance in the market one year later. Ford offered its 427-cubic-inch (7.0L) as an option though '64 and '65 in the Thunderbolt.
The first Pontiac GTO was an option pack in 1965 with a 389-cubic-inch (6.4L) V8 complemented with a Hurst shift kit for the floor-mounted four-speed. The AMC in 1965 had a Rambler Marlin fastback to battle the Ford Mustang and the Plymouth Barracuda. The Marlin, though a nice possibly futuristic auto, lost that battle, so AMC tried the Rebel equipped with the 280 horsepower Typhoon V8 but still without the sales response wanted. Not to be outdone without a fight, AMC tried the pony car market with the very impressive two-seated AMX and then the roomier Javelin a few years later with slightly better results.
© Raytags | Dreamstime.com Vintage car front end
The sales of muscle cars were still not a huge piece of the Detroit car market, but these cars had younger prospective buyers frequenting the showrooms to look at these machines that were putting out up to 450 hp (336 kW). Ford built 200 units of lightweight Galaxies using fiberglass panels, aluminum bumpers, then putting a 427-cubic-inch (7.0L) engine rated at 425 hp (317 kW) under the hood. These Galaxies could do a standing quarter in just over 12 seconds. There were 5,000 similarly equipped daily drivers street legal and able to do 0-60 mph in less than six seconds in a Galaxy 500XL.
 © Raytags | Dreamstime.com Superbird
The 1964 Ford Thunderbolt is a lightweight in the Fairlane body but will do the quarter-mile in 11.76 seconds reaching a speed of 122.7 mph (197 km/h). Gaspar "Gas" Ronda got his Thunderbolt to do the quarter in 11.6 seconds going up to 124 mph (200 km/h). The Thunderbolt came with a 427 and special exhaust pipes.
In 1963, if you chose option pack RPOZ-11 for your Impala, you would have a car built for the track, but it was only a one-year offer. The car came with a 409, which was 427-cubic-inch displacement and rated at 430 bhp (321 kW) with a compression ratio of 13.5:1 and burned high octane. This car had many changes made to reduce weight, including aluminum hood, fenders, and bumpers and no sound proofing. More weight-saving as well as power-adding features under the hood were an aluminum fan shroud, two-piece intake manifolds, special exhaust manifolds, cylinder heads, and pistons with a deep sump oil pan and cowl injection air cleaner. Chevy removed any goodies not deemed essential, so no heater, no radio.
Dodge had a 1964 model Hemi that produced 500 bhp (373 kW); this drag racer also had aluminum bumpers, fenders, doors, and lower rocker covers with magnesium front wheels. Inside the car had a light Dodge van seat, one wiper, no sun visors, Lexan windows for safety, no sound proofing, and included with the package was a disclaimer the purchaser needed to sign to cement the deal that it was for supervised race trials and not a daily driver.
© Swtrekker | Dreamstime.com 1970 Plymouth Road Runner Superbird restoration
Chrysler Corporation had a 1965 Plymouth Satellite powered by a 426 Hemi that put out 550 bhp (410 kW) but only for the one year. The '66 version was much tamer, but it still put out 425 bhp (317 kW). This Satellite model had "the best combination of brute strength and tractable street manners we have ever driven" said Car and Driver magazine. The car was criticized for poor brakes and low cornering capabilities, but it could do the quarter-mile in 13.8 seconds, reaching 104 mph (167 km/h).
Related on Muscle Car Fan
---
Rebel Muscle
The Rebel made its first appearance as a V8 power option for the Rambler Classic in 1957; it was only available for the one year. The Rebel made a reappearance as a two door coupe in 1966;  this time as a luxury option for the Classic featuring special trim, bucket seats, and a revised roof line.
© Raytags | Dreamstime.com - Classic Car Photo
The 1967 Rebel name plate replaces the Classic as the Rambler Corporations mid-sized line and the car has a 2' (50 mm) longer wheel base than the Classic and it is wider by 4' (100 mm)  as well.  The medium sized Rebel now has as much room as the full sized cars from G.M. and Ford. Rambler refers to the Rebel as a functional family car with style.  A two door coupe is available with a flip out rear side windows but for only in '67 and a convertible model as offered for '67 and '68 only. From 1967 to 1970 the other models offered are a two door hard top, two door sedan, four door sedan, and a four door wagon. The entry level is the 550, one step up the 770, and the top of the line is the SST. Rambler introduced newly designed six cylinder engines in 1964 but the Rebel name plate introduced a whole new line of V8 engines. The 290 cu in (4.8 Liter) as well as a 343 cu in (5.6 Liter) that produces 280 hp (209 k W) at 4,800 rpm with the four barrel and dual exhaust. In '67 AMC abandoned the torque tube and introduced an open drive shaft and another big change is in the rear suspension with a trailing arm live axle and coil springs to smooth out the ride. New safety features are the dashboard is pushed forward away from the driver with the accessible controls and gauges are in a protective housing with a collapsible steering wheel as well.
© Ananthkrish | Dreamstime.com - 1970 AMC Rebel Car At The Car Show Photo
Power for the 1967 Rebel SST is the 343 cu in (5.6 liter) and does turn this car into a economy minded persons muscle car. The fuel consumption for highway trips can also be kept down with the overdrive feature on the transmission. The hard top version can do 0-60 (97 km/h) in 9 seconds with a top speed of 110 mph (177 km/h) and in the passenger compartment it remains quiet with great sound proofing. In the tradition of AMC the car has reclining seats with back rests and self adjusting seat belts.
The 1968 Rebel is no longer a Rambler – it now belongs to the reorganized AMC family. However the appearance of the car changes little with a light alteration of trim, a wrap around bumper, with altered grill and updated tail lamps.  This is the last year for the convertible but it is an offering for the first time on the 550 base models. The addition of a few new safety features includes side marker lights, shoulder harnesses in front, paddle style flush mount inside door handles, and the elimination of bright trim inside the cabin to minimize reflections. Under the hood Rebel SST comes with a 290 cu in (4.8 L) V8 but the company introduces an optional 390 cu in (6.4 L) V8 engine producing 315 hp (235 kW; 319 PS) and the Rebel representing AMC is seen on the race track for the first time. For the economy minded other models can be ordered with the 232 cu in (3.8 L) six cylinder engine.
Related on Muscle Car Fan
Next Post