Mecum Auctions: The world's largest collector-car auction drops by Kissimmee
At many car shows around the country, auto enthusiasts can look but not touch. It's reminiscent of Jones' 1980s pop hit. But how much fun would it be to experience the visceral thrill of a racing muscle car?
Full article: https://goo.gl/mC08A4
Some chefs love to get under the hood of a stove and a car
Is there a connection between cars and cuisine? We spoke to some local chefs who happen to be car enthusiasts. They occasionally get together to hang out and collaborate on restoration projects and talk shop, because they share much in common: They love cooking and they love cars.
Full article: https://goo.gl/8cRjrR
Chevrolet Corvette Leads Premium Sports Coupe Sales for 2016
As I continue to dig through the final 2016 sales numbers, I have found that the Chevrolet Corvette has once again led the premium sports coupe segment in annual sales – selling more than twice as many cars as the second place cars on the list.
Full article: https://goo.gl/L93T7T
Faraday Future's 2.4-Second 0-60 Is Nothing But a Distraction
Last night, ambitious automotive startup Faraday Future finally debuted its first production-ready, semi-autonomous car. In a 90-minute presentation marred by multiple technical hiccups, Faraday Future presented its vision of a revolutionary new world of transportation-one where your car parks and sometimes drives itself, freeing you to be the pampered passenger in your own self-chauffeured luxury electric crossover.
Full article: https://goo.gl/dbcy3N
Pontiac Trans Am Kammback Concept Is Ready For Auction
All of the muscle cars in the past were driver-focused and in generally they didn't offer much utility, but this has changed over the years.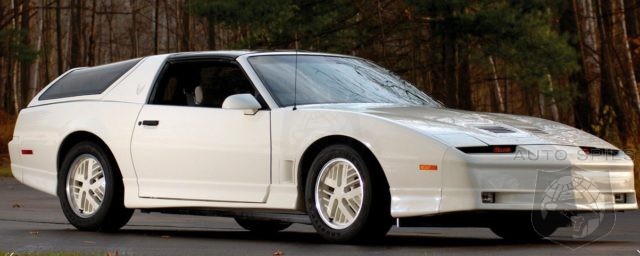 Full article: https://goo.gl/9vVJGy
What are the Top 10 Muscle Cars of All Time?Get the breakdown, and see the action!
Top American Cities for All Classic Car Enthusiasts
By all definitions, classic muscle cars are just cool. However, if you are the kind that lives and breathes classic muscle cars, these cities may be heaven for you. From dealerships, auto repair shops, car show events, car clubs and even a ridiculous number of cars per capita, these cities have it all.
St Louis, MO
With the highest number of car maintenance amenities, this city also has the third highest number of car dealerships in the country according to a study by Movoto. The St. Louis Sports Car Club of America and the Coachmen Car Club makes this city a paradise for every enthusiast.
Las Vegas, NV
This one isn't a surprise. The epitome of consumerism in America, this city is big on cars. The city also attracts international industry players in the exclusive SEMA show. The cars that they arrive in befit their titles.
Sacramento, CA
Just name this the double capital. Sacramento doubles as the state capital and capitol of classic muscle cars on the West Coast. The residents here are big on carpooling with an impressive 12.83%. If you love driving around, this is the city for you; just avoid the rush hour.
Miami, FL
Whatever this city lacks in car clubs and carpooling, it makes up with boasting one of the highest number of car shows per capita. Buy cars from the numerous dealerships and catch a festival just about every week.
Chevrolet El Camino 1966 "Riding shotgun!
Very sharp looking 1966 Chevy El Camino. Has Chip Foose paint scheme with 17" Torque Thrust wheels. This is a California truck and is clean inside and out. New Sony CD AM/FM stereo with remote. El Camino has 327CI backed by 350 auto transmission...
Oldsmobile Coupe 1948 images
Oldsmobile is the first American company to offer a fully automatic (the hydramatic) transmission with four forward gears in 1940. Beginning in 1941 the Oldsmobile company used a two digit numbering system as a model designation. The first number would reveal the body type, while the second digit was the engine size. The first digit would be a number between 6 and 9, with the second digit being a 6 or an 8 which designates the number of cylinders, thusly, all Olds models are numbered between "66"and "98" from 1941 through to the mid 1960's. There were no new Oldsmobile automobiles produced from 1942 until after the end of WWII.
Our thanks to Gateway Classic Cars for the images here.
Rev up your engines with the American Muscle Car Challenge
The Richard Petty Driving Experience's American Muscle Car Challenge invites thrill seekers to get behind the wheel of iconic muscle cars to drive around the famed Las Vegas Motor Speedway at speeds up to 140 mph.
Full article: https://goo.gl/ZG8Lym
Collector consigns 145 vehicles for Barrett-Jackson in Scottsdale
A wide-ranging group of 145 cars from the Charlie Thomas collection will be sold at no reserve during Barrett-Jackson's flagship auction, January 14-22 at WestWorld in Scottsdale, Arizona.
Full article: https://goo.gl/xpTcP7
Holiday time Ladson muscle car cruise-in turns out regulars, impulse show-goers
Kevin Harrell lifted his daughter Christina, 2, from the back seat of his polished auto classic that turned 59 the year she was born.
Full article: https://goo.gl/xqs24e
Collector's favorites were marbles, muscle cars
Elinore McMahan would have celebrated her wedding anniversary on Friday with her husband, David, a man she said could fix just about anything.
Full article: https://goo.gl/IihLDi
Next Post