Dodge Challenger R/T – Family's Surviving Muscle Car
One of the best looking cars ever.
Related on Muscle Car Fan
---
BEST OF American Cars – Geneva Motor Show 2016
There was an awesome lineup of American muscle cars and sportscars, a few classics even, present at this years Geneva Motor Show. Here are the best bits, enjoy!
Related on Muscle Car Fan
---
Concept Car in 1956 Became a Popular Muscle Car Name in 1967
This was a Concept Car project name that in 1956 became the name for a series of popular muscle cars starting in 1967. Can you guess what brand and model this is. Couple of clues here, it was extremely popular muscle car, with the first production car appearing in dealer showrooms in February 1967. There were many engine options from a 6 cylinder to a big block 4 barrel V-8. A wide variety of options were available to personalize each car, including four-speed manual transmission or three-speed automatic, power front-disc brakes, power steering, limited-slip rear differential, hood-mounted tachometer, full instrumentation, custom interior, air conditioning, tinted glass, console, and eight-track stereo. Further, for an extra cost, any car could be special-ordered in any color.

Related on Muscle Car Fan
---
Jay Leno gets cozy with his 1966 Dodge Coronet
The muscle car era was a fascinating time for the American automobile. Jay Leno knows this and he owns a handful of wonderful examples of the era. One of his greatest examples is his 1966 Dodge Coronet. What looks like your average massive coupe hides a beastly secret between its fenders. If you glance at the badge, you'll see "426 Hemi" and you know this thing means business.
Full article: https://goo.gl/15b0i8
Pick of the Day: 1969 Plymouth Barracuda fastback
Plymouth Barracudas have the distinction of being produced for exactly one decade to the day (April 1, 1964 to April 1, 1974), with the third and last generation of 'Cudas becoming best-known among muscle car collectors.
The Pick of the Day is from the final year of the second generation, a 1969 Plymouth Barracuda fastback, all dressed in red, from its body to its interior to its red-line tires. The Mechanicsburg, Pennsylvania, private seller describes it in the ClassicCars.com ad as a true H-code car powered by a high-performance 383 V8 as well as a Formula S car with improved handing.
Full article: https://goo.gl/CJc1Pu
Why You Should be Careful About Car Depreciation
You may have heard before that cars are terrible investments. The reason for people saying that is because the vast majority of cars depreciate or lose value, as soon as you buy them. A car is a machine with lots of moving parts prone to breaking down. On top of that, the car you are driving this year will have a newer and more improved model the following year. Essentially there are only a handful of cars that gain in value, and those are classic or collector cars. For most other people, your cars will depreciate, and that can have implications on your car insurance.
Full article: https://goo.gl/tYCh5M
One of a kind book that illustrates in word and art the highlights of the Pontiac
Way back in the early 1970s, during the prior "pre-Photoshop" millennium, my fellow industrial design students and I labored to create photo-realistic renderings of products and cars with old-school, analog materials. Air-brushed gouache paints created super-smooth graduations of color, magic markers made deep shadows, and razor-sharp details like sparkling highlights and chrome reflections were added precisely with colored pencil.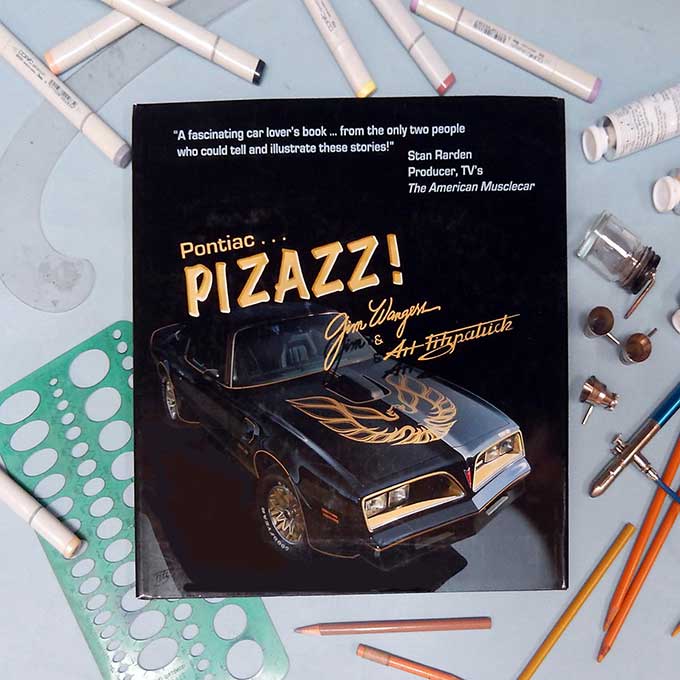 Full article: https://goo.gl/ZQUWOQ
Driven: Jeep Wrangler Unlimited 75th Anniversary Edition
The four-door Jeep Wrangler is such a brilliant product, combining the freedom and joy of the venerable CJ with the practicality of a crossover SUV. There are compromises in ride and convenience, but for many people, those are outweighed by the go-anywhere capability and rugged image of the Jeep.
Full article: https://goo.gl/ES1m3o
Related on Muscle Car Fan
---
Ford Galaxie 1964 to 1968
The Galaxie in 1964 looks different from last year with the sloped roof introduced in the '63 ½ models and the exterior is more sculptured and aerodynamic looking thanks to NASCAR testing. The interior as well has many changes for the last of this body design. The Ford Motor corporation quality control is about as good as it could be and most of these cars will make 100,000 miles before any major repairs could be needed. The Ford Galaxie has a good year in 1964 and their sales eclipse the other big three competitors numbers with the deserved reputation of having a low sticker price, comfort, good handling, and durability for all models.
 1964 Galaxie
The biggest selling Ford in '64 is the Galaxie XL hardtop coupe and this is still a popular model for collectors. The basic XL has the 289 V8 with a new style thin shell bucket seat designed for driver comfort, as well lap belts are mandatory in 1964 for the two outside front seats. The high performance option is the 427 cu in (7.0 L) and this same engine in the Galaxie does well at the tracks around North America but the car is still too heavy and the new light weight Fairlane Thunderbolt does better with the same engine. There is another engine that Ford Galaxie had introduced late in '64 for racing at NASCAR; the SOHC 427 "Cammer" was possibly the most powerful engine ever put into a production car by a North American manufacturer and is rated at over 600 hp (450 kW). NASCAR had a change in rules and this engine never went into large scale production because Ford was afraid of being held liable it was never sold to the public – officially – but there is a big possibility that a few Galaxies with these engines are out there somewhere in the hands of the public.
The 1965 Galaxie 500 has an all new body style, it is taller and wider with a stacked 2+2 headlight system with the XL designation dropped the 500LTD is the top model now. The engines are the same except for the six – it was dropped and an all new 240 cu in (3.9 L) is the smallest. The interior is much the same but the instrument cluster is altered somewhat and Ford introduces the double sided key. The new models have redesigned suspension – a three link style with all coils springs and the handling improves dramatically
In 1966 Ford introduces a new model; the Galaxie 500 7 liter with a 428 cu in (7.0 L) Thunderbird V8 engine. This year an am/fm radio is an option as is the dash mounted emergency brake light but the front and rear lap belts are mandatory now.
The7 liter no longer carries the Galaxie name in 1967 except on the VIN number and some of the trim part numbers still say Galaxie. The car has a rounder, less boxy look with a new grill that has a large bend in the center. The interior has a padded center hub in the steering wheel as well as other padded surfaces with reassessed dash controls and there are shoulder belt anchors installed awaiting the shoulder belt law. The latest in technology is available this year; it is an eight track tape deck The engine options are all the same but the duel master brake cylinders and back up lights as standard equipment.
For 1968 the grill is changed and the headlights are no horizontally mounted and the car sports side marker lights this year. The standard engine offered is now a 302 cu in (4.9 L) and other standard equipment includes courtesy lights, cigarette lighter, suspended gas pedal, and padded front seat backs. This year the steering wheel is again different and all the Ford products have a soft bar running through the wheels diameter with a plastic horn blowing ring.
Related on Muscle Car Fan
Next Post