Distinctive muscle car stolen in Dunedin
Police are searching for an American muscle car that was stolen from central Dunedin on Thursday night.
The burgundy 1976 Ford Torino saloon was parked in High St when it was stolen, Acting Senior Sergeant Phill Hamlin said.
The owner parked his vehicle near the Dunedin District Court about 10.30pm.
After visiting a nearby address he returned...
Full article: https://goo.gl/6rqdPw
Related on Muscle Car Fan
---
Jay Leno gets cozy with his 1966 Dodge Coronet
The muscle car era was a fascinating time for the American automobile. Jay Leno knows this and he owns a handful of wonderful examples of the era. One of his greatest examples is his 1966 Dodge Coronet. What looks like your average massive coupe hides a beastly secret between its fenders. If you glance at the badge, you'll see "426 Hemi" and you know this thing means business.
Full article: https://goo.gl/15b0i8
Pick of the Day: 1969 Plymouth Barracuda fastback
Plymouth Barracudas have the distinction of being produced for exactly one decade to the day (April 1, 1964 to April 1, 1974), with the third and last generation of 'Cudas becoming best-known among muscle car collectors.
The Pick of the Day is from the final year of the second generation, a 1969 Plymouth Barracuda fastback, all dressed in red, from its body to its interior to its red-line tires. The Mechanicsburg, Pennsylvania, private seller describes it in the ClassicCars.com ad as a true H-code car powered by a high-performance 383 V8 as well as a Formula S car with improved handing.
Full article: https://goo.gl/CJc1Pu
Why You Should be Careful About Car Depreciation
You may have heard before that cars are terrible investments. The reason for people saying that is because the vast majority of cars depreciate or lose value, as soon as you buy them. A car is a machine with lots of moving parts prone to breaking down. On top of that, the car you are driving this year will have a newer and more improved model the following year. Essentially there are only a handful of cars that gain in value, and those are classic or collector cars. For most other people, your cars will depreciate, and that can have implications on your car insurance.
Full article: https://goo.gl/tYCh5M
One of a kind book that illustrates in word and art the highlights of the Pontiac
Way back in the early 1970s, during the prior "pre-Photoshop" millennium, my fellow industrial design students and I labored to create photo-realistic renderings of products and cars with old-school, analog materials. Air-brushed gouache paints created super-smooth graduations of color, magic markers made deep shadows, and razor-sharp details like sparkling highlights and chrome reflections were added precisely with colored pencil.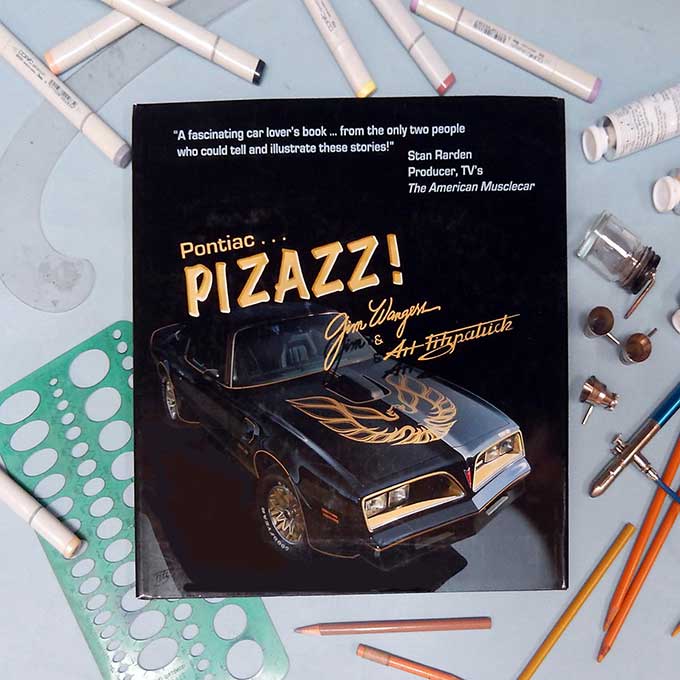 Full article: https://goo.gl/ZQUWOQ
Driven: Jeep Wrangler Unlimited 75th Anniversary Edition
The four-door Jeep Wrangler is such a brilliant product, combining the freedom and joy of the venerable CJ with the practicality of a crossover SUV. There are compromises in ride and convenience, but for many people, those are outweighed by the go-anywhere capability and rugged image of the Jeep.
Full article: https://goo.gl/ES1m3o
Related on Muscle Car Fan
---
1962 Chevrolet Z11 at Muscle Car and Corvette Nationals
The early 1960s saw American automakers building some very special and very limited editions of production models that appeared to be stock, but were hiding some tricks to make them race-ready. This 1962 Chevrolet Impala Z11 is just such a car. A factory-built lightweight racer, this car features a high-performance 409 engine and aluminum body panels to reduce weight. The restoration was debuted by Jim Mattison at the Muscle Car and Corvette Nationals in Chicago.
Related on Muscle Car Fan
Next Post