Menu
Your Social Media Manager is Wes Vital,
an American Certified Mechanic
Could the Dodge Challenger and Charger Soon Lose Their V8?
The internet is ripe with talk of how the V8 engines in the Dodge Challenger and Dodge Charger will soon be replaced by a twin turbocharged V6 and while I believe that we could see a twin turbo V6 in the Dodge muscle cars in the future – I don't believe for a second that the next generation Challenger or Charger will be without a V8 engine option.
Full article: https://goo.gl/OiIPv6
Massive 425-Image Gallery: Every Car From The Muscle Car and Corvette Nationals
If you didn't make it to the Chicago area to attend the 2016 Muscle Car and Corvette Nationals, we have the next best thing a virtual all-access pass to the of every car on display.
Full article: https://goo.gl/xY9ybv
One outrageous '1967' Shelby GT500 Mustang
Let's face it, if you've ever owned a classic car, you'll know just how frustrating the ownership experience can be. Sure, unless your automotive tastes run to the weird and esoteric, your classic of choice will be a looker, a stunning example of automotive design from a bygone era.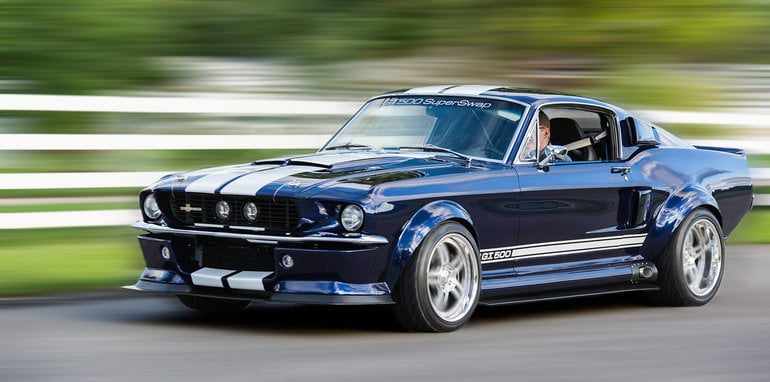 Full article: https://goo.gl/wKWp5x
2016 Muscle Car and Corvette Nationals – Huge Show Gallery!
Some of coolest Chevys in the country show up at the MCACN event we're there to check out all of the bowtie action!
Full article: https://goo.gl/cTrLZg
Mopars Hit The Eastern Classic In Maryland! Huge Gallery!
The northeast is rich with Dodge and Plymouth American muscle that includes bountiful quantities of 340, 360, Max Wedge and Hemi horsepower. Nowhere is that more obvious than at the recent 24th Annual Eastern Mopar Classic held at the popular Maryland International Raceway (MIR) this past October 29. The MIR promotion team stacked the deck with a full house of show and go action, while racers, show participants, and fans flooded in with classic and modern machinery to tear up the quarter-mile and take home those awesome show awards.
Full article: https://goo.gl/ACDmjb
---
Win a 1000+ HP 2017 Challenger Hellscat and a 1970 Hemi Challenger R/T!
Order your T-Shirt NOW and receive 10 FREE BONUS Tickets valued at $20 to win a 1970 & 2017 Challenger!
It is almost car show season.
Do you have your cool T-shirts yet?
You're gonna love the comments you get!
"Nothing like having quality T-shirt's showing your favorite objects........hot rods, thanks for the great T-shirt that's made with quality in mind" - Robert K.
Just think about it for a second: With one T-shirt or eBook you could win a pair of shiny, roaring, jaw-dropping machines. But wait, it gets even better... BECAUSE YOUR TAXES ARE PAID FOR! Meaning that this muscle car is all yours with zero down sides.
Additionally, Dream Giveaway raises money for charities, and we will make a donation on your behalf with each purchase. So not only do you get a chance to win a wicked ride, but you are also making a huge difference. As if it couldn't get any better.
The T-shirts are made of a quality fabric. They are soft, comfy, lightweight, and extremely durable. You will love wearing them, and you will live the comments you get even more! They are available in a wide array of colors and sizes.
Free Shipping
Printed in the USA
10 Tickets Valued at $20
Ticket Proceeds Go to Charity
Made of Quality Fabric (Many Colors)
You're Gonna Love the Comments!
eBooks Can Save You Tons of Time, Money, and Aggravation
---
Most Recent Facebook Posts
What are the Top 10 Muscle Cars of All Time?Get the breakdown, learn the history, and see the action!