1969 Chevelle Features a Stout 740hp LSX 454
"For the past few years I've been trying to find the perfect, classic muscle car," proclaimed Zach Archer. "I've tried [vintage] Corvettes, Camaros, and Mustangs, and even the current models. After many disappointments trying to find something that made me happy, my buddy Javier Leclerc from DI Motorwerkz got tired of advising me on what to buy or not to buy."
Full article: https://goo.gl/VTt0ab
Related on Muscle Car Fan
---
Top American Cities for All Classic Car Enthusiasts
By all definitions, classic muscle cars are just cool. However, if you are the kind that lives and breathes classic muscle cars, these cities may be heaven for you. From dealerships, auto repair shops, car show events, car clubs and even a ridiculous number of cars per capita, these cities have it all.
St Louis, MO
With the highest number of car maintenance amenities, this city also has the third highest number of car dealerships in the country according to a study by Movoto. The St. Louis Sports Car Club of America and the Coachmen Car Club makes this city a paradise for every enthusiast.
Las Vegas, NV
This one isn't a surprise. The epitome of consumerism in America, this city is big on cars. The city also attracts international industry players in the exclusive SEMA show. The cars that they arrive in befit their titles.
Sacramento, CA
Just name this the double capital. Sacramento doubles as the state capital and capitol of classic muscle cars on the West Coast. The residents here are big on carpooling with an impressive 12.83%. If you love driving around, this is the city for you; just avoid the rush hour.
Miami, FL
Whatever this city lacks in car clubs and carpooling, it makes up with boasting one of the highest number of car shows per capita. Buy cars from the numerous dealerships and catch a festival just about every week.
Related on Muscle Car Fan
---
Latest Ford Mustang Will Have a Face Lift, What Are the Changes?
For 52 years, the Ford Mustang has been the longest production of any American muscle car. In fact, the model will continue to evolve with its latest sixth generation model which will be refreshed next year. What are the specs of the classic 'Stang?
Full article: https://goo.gl/hBvEzV
Related on Muscle Car Fan
---
6 Muscle Cars That Everyone Wants No Matter the Cost
Nothing ignites the adrenal glands while sitting in the driver's seat like an American muscle car. Powerful engines. Masculine body designs. High-performance driving. Plenty of enjoyment waits to be had on the open road. Muscle cars have gained popularity in recent years, but how are cash-strapped Americans affording them?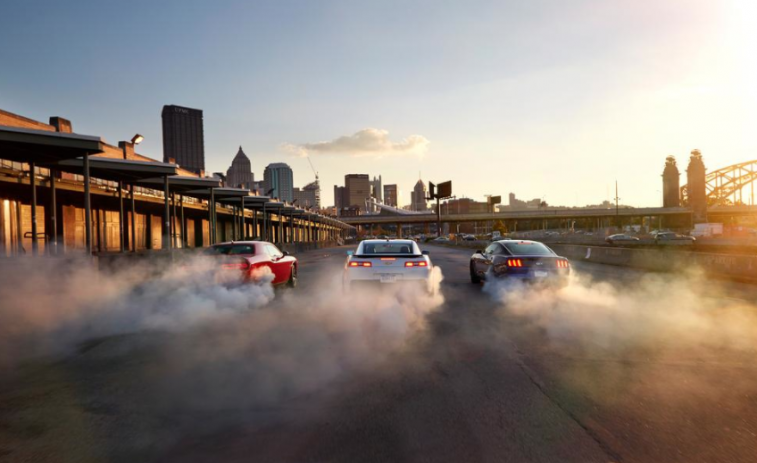 Full article: https://goo.gl/Hs7U5o
The 2017 Chevrolet Camaro ZL1 is a monstrous muscle car
The all-new Chevrolet Camaro has been heralded for the way it's slimmed down to become more of a sports car than the model's ever been, but now it's time to bulk back up.
Full article: https://goo.gl/EOJMsy
This Mercury Cougar Eliminator is a lovely '69 survivor
If you have an overachieving brother/sister/cousin/friend (or whoever), you might know this feeling well; it can be tough to live up to those standards. In many ways, that notion can also describe the Mercury Cougar and its pioneering Ford Mustang sibling. Quite the act to follow, no?
Full article: https://goo.gl/lsNwC8
Why the Lightning became the Raptor?
Some of us may fondly remember the Ford Motor Company [NYSE:F] F-150 SVT Lightning. Introduced in 1993, it was a performance pickup with a more powerful V-8 under the hood and some brake and suspension upgrades to help it stop and handle better.
Full article: https://goo.gl/4nkabp
Trio Of Collectible Chevrolets Heading To Barrett-Jackson Scottsdale
Pull out the checkbooks and start saving your Christmas cash, the 2017 Barrett-Jackson Scottsdale auction is nearly upon us.
And that means we will be seeing some serious collectible metal cross the block, including a trio of sought after Chevrolets.
Full article: https://goo.gl/uAFyNt
Related on Muscle Car Fan
---
Willys Overland Model 86-Antique Muscle-1916 images
From 1912 until 1918 Willys was the second largest automobile manufacturer in the States. The 1916 Overland had a MSRP of $1,145.00, or $25,083.00 in 2016 dollars. This "model 86" is powered by a 45 hp 6 cylinder engine that is coupled to a non-sychromesh 3 speed manual transmission. Newly added features for 1916 include the "one man" convertible top, electric control buttons, electric lights and door pockets for storage. The starter is activated by a floor mounted peddle and the carburetor has a dash mounted manual choke to aid starting the engine before it is warmed up. The unit shown is complete and correct in every detail; sportimg wooden spoked wheels, 34x4 Goodrich 4-ply tires with hub caps.
MCF thanks Gateway Classic Cars for the images provided here
Related on Muscle Car Fan
Next Post